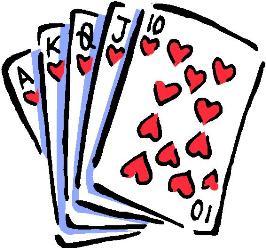 We are a very friendly duplicate bridge club playing to an average club standard. Players of ALL ages are welcome in spite of the fact that we meet in the Over Sixties Club at the Wave Leisure Centre (formally the Downs Leisure Centre).
We like to start at 6.35 pm and you are requested to be there by 6.20 pm if you would like to play. We usually finish between 9.30 and 10.00 pm.
We can offer a facility for teaching bridge to beginners and improvers.

If you need further information, please contact Colin Graham-Hyde (Tel: 01323 892171.
E-mail: joycol71@talktalk.net)
OR
Mildred Robertson (Tel: 01323 892338.
E-mail mildred.robertson@btinternet.com).